Goa Tour Planner: Creating the Ideal Getaway with the Ultimate Goa Experience Revealed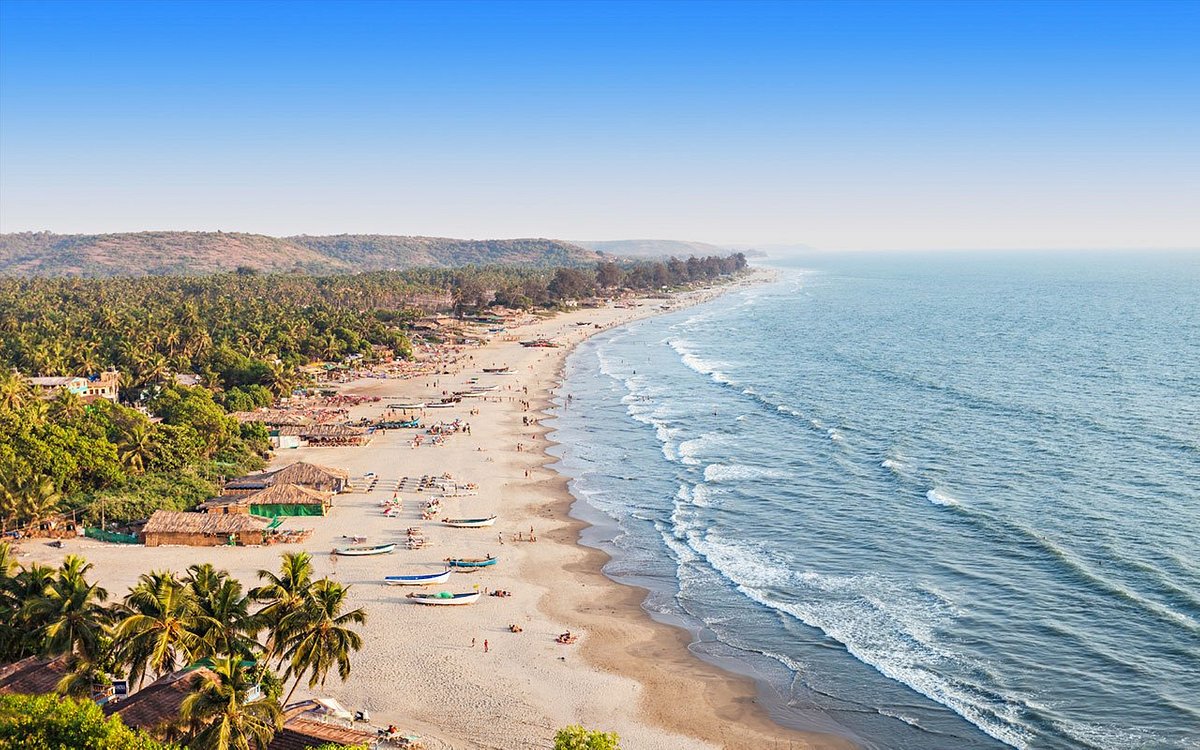 Introduction
Nestled along the azure coastline of the Arabian Sea, Goa is a tropical paradise that beckons travelers from around the world with its sun-kissed beaches, vibrant culture, and rich history. Whether you're a sunseeker, an adventure enthusiast, a history buff, or a party animal, Goa has something to offer everyone. To truly make the most of your Goan adventure, it's essential to have a well-structured tour plan. In this blog, we present the ultimate Goa tour planner to help you create unforgettable memories in this charming Indian state. Goaplans is the perfect goa tour planner come and explore goa with goaplans.
 Setting the Stage Goa tour planner
Before you embark on your Goan adventure, it's crucial to lay the foundation for your trip. Here's what you should consider: Goaplans is the perfect goa tour planner
Travel Season: Goa has two main tourist seasons: the dry season (from November to March) and the wet season (from June to September). The dry season is perfect for beachgoers and outdoor activities, while the wet season is ideal for budget travelers seeking lush green landscapes and solitude.
Duration: Decide how long you plan to stay in Goa. A week is typically sufficient to explore the state's major attractions, but you can extend your trip if you want a more relaxed experience.
Budget: Establish a budget that covers accommodation, transportation, activities, food, and souvenirs. Goa offers options for travelers with various budget ranges, from backpackers to luxury seekers.
Finding Your Perfect Stay
Goa offers a diverse range of accommodation options to suit different preferences and budgets. Your choice of stay can greatly influence your overall experience. Consider the following: Goaplans is the perfect goa tour planner come and explore goa with goaplans.
Beachfront Resorts: For a luxurious experience, opt for beachfront resorts in North Goa like Baga Beach or South Goa's Palolem Beach. These offer stunning ocean views, world-class amenities, and easy access to the beach.
Boutique Hotels: Explore charming boutique hotels in the historic areas of Panaji or Old Goa. These provide a glimpse into Goa's colonial past and offer a unique cultural experience.
Guesthouses and Homestays: To immerse yourself in local culture, stay in guesthouses or homestays in villages like Anjuna or Arambol. You'll have a chance to interact with Goan families and experience their hospitality.
Hostels: Ideal for budget-conscious travelers and solo backpackers, Goa has a thriving hostel scene with options in popular backpacker areas such as Vagator and Palolem.
Beach Bliss
No Goa trip is complete without soaking up the sun on its pristine beaches. Here are some must-visit beaches and activities to enjoy: Goaplans is the perfect goa tour planner come and explore goa with goaplans.
Calangute Beach: Known as the "Queen of Beaches," Calangute offers water sports like parasailing and jet-skiing. Don't forget to relish fresh seafood at the beachside shacks.
Anjuna Beach: Famous for its vibrant flea markets and nightlife, Anjuna Beach is a hub for backpackers. Attend a beach party or relax on the sandy shores.
Palolem Beach: Located in South Goa, Palolem's serene beauty is perfect for a tranquil beach day. You can also take a boat ride to Butterfly Island or watch dolphins in the early morning.
Arambol Beach: Visit Arambol for its bohemian vibe and yoga retreats. The sweetwater lake near the beach is a unique spot for a refreshing dip.
Delving into History and Culture
Goa's history is a tapestry of Portuguese and Indian influences, and there are numerous heritage sites to explore: Goaplans is the perfect goa tour planner come and explore goa with goaplans.
Basilica of Bom Jesus: Designated as a UNESCO World Heritage site, this historic monument serves as the final resting place of St. Francis Xavier and showcases remarkable Baroque architecture.

Fort Aguada: Explore this well-preserved 17th-century Portuguese fort that offers panoramic views of the Arabian Sea.
Old Goa: Wander through the winding streets of Old Goa, where you'll discover beautiful churches, museums, and historic homes.
Spice Plantations: Take a guided tour of a spice plantation to learn about Goa's spice trade history and experience the fragrant spices firsthand.
 Goa is a gastronomic paradise, offering a fusion of Indian and Portuguese flavors. Sample these mouthwatering dishes: Goaplans is the perfect goa tour planner come and explore goa with goaplans.
Goan Fish Curry: This tangy and spicy coconut-based curry is a Goan staple, often served with rice.
Vindaloo: A spicy and flavorful pork dish marinated in vinegar and spices, introduced by the Portuguese.
Feni: Try Goa's traditional alcoholic beverage made from cashew apples or coconut sap.
Bebinca: Indulge in this rich, layered Goan dessert made from coconut milk, sugar, and eggs.
 Adventure and Ecotourism
Goa isn't just about beaches and parties; it offers thrilling adventures for the adventurous traveler: Goaplans is the perfect goa tour planner come and explore goa with goaplans.
Dudhsagar Waterfalls: Embark on a jeep safari or trek to witness the majestic Dudhsagar Waterfalls, surrounded by lush forests.
Scuba Diving: Explore the underwater world by going scuba diving in Goa's clear waters, which teem with marine life.
Trekking: The Western Ghats around Goa offer excellent trekking opportunities, with trails suitable for both beginners and experienced trekkers.
Bird Watching: Visit the Salim Ali Bird Sanctuary to spot a variety of avian species in their natural habitat.
Nightlife and Entertainment
Goa awakens at night, offering a lively nightlife. Here's a guide to help you maximize your evenings: Goaplans is the perfect goa tour planner come and explore goa with goaplans.
Beach Parties: Attend beach parties at shacks along Baga, Anjuna, or Palolem Beach for music, dancing, and a lively atmosphere.
Clubs and Bars: Explore popular nightclubs like Tito's and Mambo's in Baga, or enjoy live music at bars in Palolem and Vagator.
Festivals and Events: Check the local event calendar for festivals, art exhibitions, and cultural performances taking place during your visit.
Shopping and Souvenirs
Goa offers a diverse range of shopping experiences, from flea markets to boutique stores: Goaplans is the perfect goa tour planner come and explore goa with goaplans.
Anjuna Flea Market: Shop for clothing, jewelry, and handicrafts at this iconic market, held every Wednesday.
Mapusa Market: Visit the Friday market in Mapusa for spices, textiles, and fresh produce.
Art Galleries: Explore art galleries in Panaji to purchase traditional Goan art and handicrafts.
Boutique Stores: Find unique souvenirs in boutique stores in areas like Assagao and Sangolda.
Practical Tips and Precautions
To ensure a smooth and enjoyable trip to Goa, consider these practical tips: Goaplans is the perfect goa tour planner come and explore goa with goaplans.
Weather Awareness: Pack suitable clothing and sunscreen based on the season of your visit.
Local Transportation: Rent a scooter or hire a taxi to explore Goa at your own pace, but be cautious while driving.
Water Safety: If you plan to swim, adhere to safety guidelines, especially during the monsoon season when the sea can be rough.
Respect Local Customs: Goa is a diverse state, and respecting local customs and traditions is essential.
Wrapping Up Your Goa Adventure
As your Goa adventure comes to a close, don't forget to reflect on the beautiful memories you've created. Goa is a place that leaves a lasting impression on all its visitors, whether they're drawn to its beaches, culture, history, or nightlife.
 conclusion
Goa offers a multifaceted experience that can be tailored to your preferences. By using this Goa tour planner, you'll be well-prepared to explore and savor every aspect of this magnificent destination. Whether you're a solo traveler, a couple on a romantic getaway, or a family seeking adventure, Goa promises to be an unforgettable journey of exploration and relaxation. So, pack your bags, prepare your itinerary, and get ready for the vacation of a lifetime in the land of sun, sand, and spice.Goaplans is the perfect goa tour planner come and explore goa with goaplans.
Plan your trip well, and let Goa's unique charm and beauty take your breath away, one day at a time!
frequently asked questions for a Goa Tour Planner:
What is the role of a Goa Tour Planner, and how can they elevate my vacation experience? A Goa Tour Planner is a dedicated service designed to help you craft the ultimate Goan getaway. They offer expert insights and recommendations to make your trip extraordinary.
What are the must-see attractions and activities that I shouldn't miss in Goa? Goa boasts an array of attractions, including its pristine beaches, historic forts, bustling nightlife, thrilling water sports, and a rich cultural tapestry. A Tour Planner can guide you through the best experiences.
How can I choose the perfect accommodation that aligns with my preferences and budget? Selecting the right lodging depends on your unique tastes and financial plan. A Tour Planner can provide tailored suggestions, whether you're after beachfront luxury or budget-friendly stays.
When is the optimal time to visit Goa for the most enjoyable experience? The peak tourist season in Goa spans from October to April, characterized by pleasant weather. However, Goa's beauty is accessible year-round, even during the unique monsoon season.
What are the best ways to immerse in Goa's vibrant nightlife and music scene? Goa is renowned for its nightlife. Expert Tour Planners can point you to the hottest clubs, beach parties, and music festivals for a memorable nocturnal experience.
What thrilling adventures and water sports are available for adrenaline enthusiasts in Goa? Goa offers a plethora of heart-pounding activities, from parasailing and jet skiing to scuba diving and adventurous trekking, as well as serene cycling expeditions.
What are the quintessential cultural and historical experiences that define Goa? Explore the rich heritage of Goa by touring historical gems such as Aguada Fort and Se Cathedral, and soak in the unique fusion of Indian and Portuguese cultures.
Where can I savor the authentic flavors of Goan cuisine during my visit? Trust a Tour Planner to steer you toward local eateries and hidden street food gems where you can relish traditional Goan dishes like delectable seafood curries and Bebinca.
Are there any special permits or visas required for international travelers visiting Goa? International travelers should be informed about India's visa prerequisites and ensure all travel documents are in order before their journey.
Can a Tour Planner assist with transportation arrangements within Goa and its neighboring regions? Absolutely, Tour Planners can facilitate your transportation needs, be it vehicle rentals, chauffeur services, or guidance on utilizing public transport for local and nearby explorations.